New products available at Fertitta's Deli, 1124 Fairfield, are taking the business back to its roots. Until 1960, the-then Crystal Grocery was the first store in Shreveport to stock imported foods. Current owner Agatha McCall and son Patrick are making what was old, new again with their Padre Fertitta Foods line of imported items. New to their shelves are a curated selection of ultra-premium, high-quality salamis and sausages that are GMO, hormone, chemical preservative and antibiotic-free, and grass fed.
The selection includes:  Sweet Italian Sausage – $11, Loukaniko Sausage (Greek style sausage) – $11, Guanciale – $12, Duck Breast Prosciutto – $10, Soppressata Sliced – $10, Porcini Salami Sliced – $10, Wild Fennel Salami Sliced – $10, Bresaola- $10, Coppa – $15, Soppressata Stick – $15, Porcini Salami Stick – $15, Wild Fennel Salami Stick – $15. Fertitta's will soon be ordering a variety of other sausages, bacons, and even Randall Lineback Beef. Meats are sold in-store only.
Their new line also includes a delicious variety of marinated and pickled carrots, olives, garlic pods, green beans, mushrooms and a Top Shelf Bloody Mary mix.
The marinated veggies are just the beginning for Patrick and Agatha. Also new are a fine imported Olive Oil, and a Balsamic Vinegar from Modena, Italy that has none of the 'bite' of grocery store vinegars.
Padre Patrick can wax poetic about the ingredients and flavors of his products and an impromptu taste test proved him right. The olive oil was light and delicate, the vinegar smooth with a hint of sweetness, we fought over the slices of fennel-infused salami, and the marinated garlic pods left no lingering garlic taste.
The meats, olive oil and vinegar and marinated items are available at the deli now; just in time for Christmas giving (and eating)!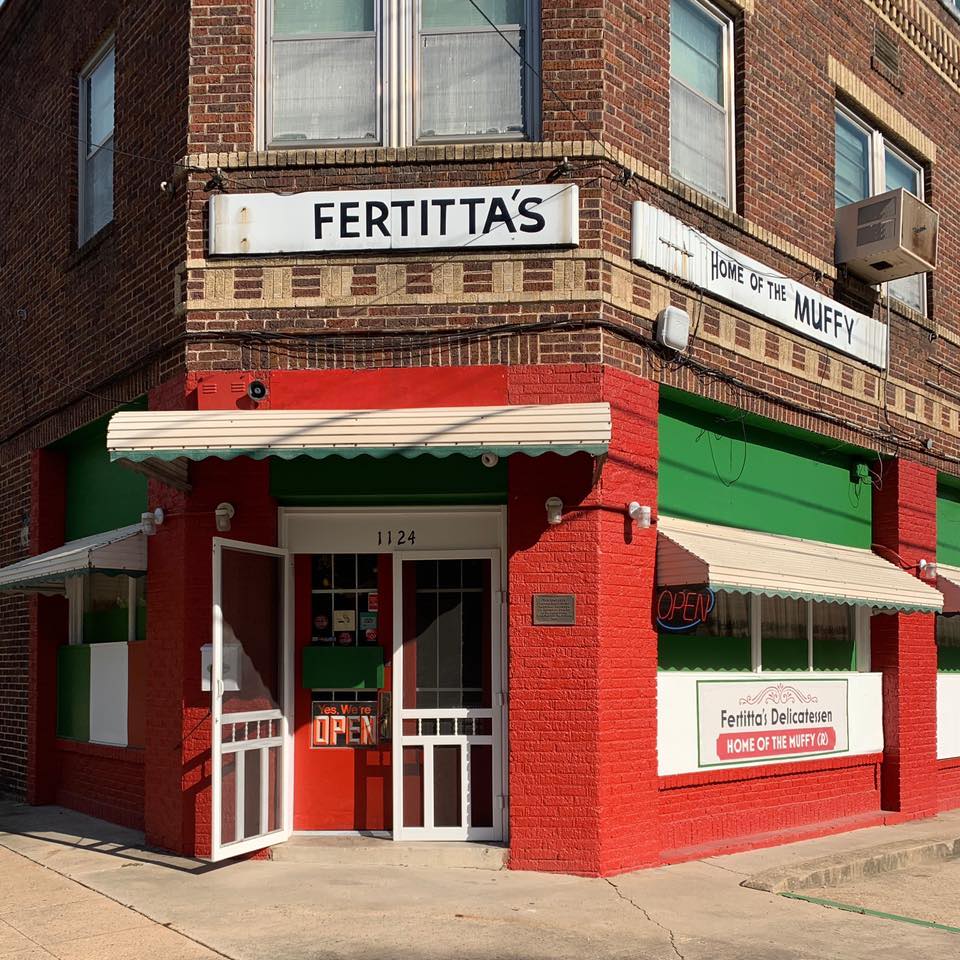 This is a wonderful new venture for an important historic building and business and for a family that means so much to our community. We are thrilled and think you will be, too.
Now, in addition to a great lunch at the home of the original 'Muffy' sandwich Monday- Friday, 10:30 am-1:45 pm, you can pick up some of Padre Fertitta's foods for yourself or gifts. You can also order some items online here.